Project short description
The "The EU and the EEU: Between Conflict and Competition, Convergence and Cooperation" (EUCON) project is a Jean Monnet Network project co-funded by the Erasmus+ programme. The implementation period of the project is 01.09.2020 – 31.08.2023.          
The aim of EUCON is to explore the full range of EU-EEU relations, which is characterized by conflict and competition, convergence and cooperation (possible).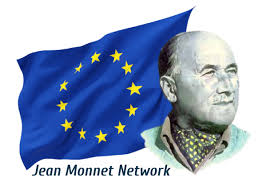 In 2014 the Eurasian Economic Union (EEU) was launched under the leadership of Russia. Despite high potential for convergence and cooperation with the EU, relations are currently overshadowed by the conflict between the EU and Russia. The project seeks to dig into the full complexity of EU – EEU relations, characterized by conflict and competition, convergence and (potential) cooperation.
What is the status-quo of relations?
What are the areas of conflict?
What are the root causes of the conflict?
What are its consequences?
What role does competition between the EU and the EEU play?
What role does the rise of China play?
What areas of convergence do exist?
What are the areas of current cooperation?
What are the preconditions to widen cooperation in the future?
EUCON brings together expertise on cultural, historical, geopolitical, economic and business aspects. It goes into depth, balancing different perspectives from Russia, the EEU countries and the EU/EU countries. The Action unites partners from the EU and the EEU and from different disciplines. It deals with the big picture, particularly by including the rise of China in the region into our perspective. The project helps to better inform current debates on relations between the EU, Russia and the EEU countries. It aims at bridging the perspective of academic, public and private actors in "the West" and "the East" in order to foster a wider awareness and critical discussion of the role of the EU, Russia, the EEU and China's initiative.
For this purpose, we:
carry out workshops and international summer schools;
produce joint publications based on research-collaboration across national and disciplinary borders;
teach seminars applying innovative didactic methods, involving teachers, journalists, public and business actors;
establish open access online blended learning units and an interactive webpage;
carry out roundtables and debates between academics and practitioners on current topics.

"The European Commission's support for the production of this publication does not constitute an endorsement of the contents, which reflect the views only of the authors, and the Commission cannot be held responsible for any use which may be made of the information contained therein."